The Donut Experiment Franchise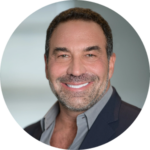 by Seth Lederman
If you are looking for a franchise opportunity, the Donut Experiment might be your ticket to financial freedom and wealth accumulation. Unlike other donut giants in the industry, there is still plenty of uncharted territory for owners to claim!
Donuts have been around as long as apple pie and baseball, and Americans can't seem to get enough. Donut stores' market share in the food industry is over $7 billion, with nearly 14,000 various businesses, and will continue to grow 5.47% in 2021. As we head into a post-pandemic economy, sales of donuts are forecasted to grow. If you are looking for a franchise opportunity, the Donut Experiment might be your ticket to financial freedom and wealth accumulation. Unlike other donut giants in the industry, there is still plenty of uncharted territory for owners to claim!
Why Choose The Donut Experiment Franchise?

The Donut Experiment franchise has been around for nearly a decade. Founded in 2012, it differs from other donut franchises because it offers a "boutique-style coffee and donut" atmosphere. The donuts are made while people view the process, which is a new twist that customers like. And if you want to have an event catered, you get to pick what toppings you want on your donuts.
There are two different styles of donuts in the industry: cake-based and yeast-based. The Donut Experiment's recipes are cake-based, so it only makes up about 47% of the doughnut market. The Donut Experiment is centered around the community experience, with events and festivals, popular at-home donut-making kits, neighborhood delivery locations, catering, and made-to-order donut and coffee options for those who stop by the retail outlets. They also offer a wide range of coffee beverages for dipping, including iced and hot lattes, cappuccinos, espressos, cold brew coffees, and hot coffee.
The Donut Experiment has also branched into real estate, with an incentive to help franchisees looking for help with their site selection and build-out. They will help with architecture, negotiating a lease or contract, permits, finding a general contractor, and purchasing furniture, fixtures, and equipment.
Marketing results are a cornerstone of the franchise offerings. The franchise helps with what they label a results-focused marketing program. Tools such as social media, neighborhood-specific marketing promotions, structured loyalty programs, grassroots marketing, and talent retention campaigns are provided to anyone who buys into the franchise.
The franchise also offers technology enhancements that help with point-of-sale systems that work with any internet connection so that you can take the franchise on the move. Owners can access their systems to help track analytics, discern customer habits, manage employees, and run reports at will. That helps business owners make conscious decisions about the big picture to support continued growth and expansion.
One of the main attractions for franchise owners looking to get into the donut industry is the Donut Experiment's various income streams, including donut platters, coffee boxes, custom orders, tiered donut cakes, and other catering packages for special occasions.
The Requirements for a Donut Experiment Owner

The requirements to become a Donut Experiment Owner are pretty basic: they are looking for people with the ability to work as a CEO, who want to run a fun business and have the goal of building more than one franchise. It is a semi-absentee business model, which means that a franchisee can continue to work in their current industry while hiring others to deal with the daily operations in their absence.
Or you can choose to be the owner-operator, switching paths to become fully invested in the day-to-day. For someone to be considered, they need a liquid cash investment of $100k, with a minimum net worth of $500k. The overall investment range is somewhere between $275k and $330k, with the intent to open more than one franchise over time.
The Benefits of Franchising
Currently, in the United States, there are over 733,000 franchises in operation. Franchises also make up about $674 billion of the market, which is a substantial portion considering they compose only about 2% of the total businesses in America.
The only real way to grow wealth and become financially secure is through business ownership, but it is a risky proposition and for most, you need the capital for a startup. Although a franchise is a new business startup, it differs from other mom-and-pop businesses because you already have a proven road map for success. Traditional and non-traditional lenders are usually more apt to help finance franchise purchases because they are considered less risky. That means that you have a greater likelihood of becoming a business owner when you buy into a franchise.
Being the Boss Comes With Advantages
Being the boss also comes with specific advantages. There is a prestige that comes with being a business owner, as well as freedom. When you own a business, you choose when you want to work and how much time you want to devote to your franchise. That isn't to say that there isn't a lot of hard work that goes into franchise ownership; it just means that you get more control over when you want to dig in and when you hire talent who can take your place so that you can continue working in a different industry while still earning profits.
Your Marketing and Branding is Already Done
Most of the time and resources of opening a business from scratch come with marketing and branding. When you buy a franchise, that is all taken care of for you. From day one of opening your doors, you already have an established reputation in the market and a brand following. So instead of taking years to build up and break even, a franchise can be profitable from the day you hang out your "open for business" sign, which is a considerable advantage over a new business startup. Many new businesses fail because they can't sufficiently break into an industry or market due to marketing and advertising. It takes months to years; franchise owners don't have to reinvent the wheel since it is already rolling along and doing well.
Bulk Supplier and Vendor Deals
Opening up a business requires you to purchase goods and materials. Although each franchise will have different things you have to buy for a startup, they usually come with the buying power of having established relationships. That allows franchise owners the advantage of having suppliers who are not only trusted; they give discounts and bulk buying prices to franchise owners. This offers significant savings and helps you profit much faster than if you have to invest as an individual business and pay retail prices.
Support and Training Aid
Finally, the Donut Experiment and other franchises offer things like support and training. It is difficult to find and retain talent, which can make semi-absentee ownership difficult. If you can't find and keep people to run the business while you are away, that can be a huge problem. The Donut Experiment not only helps to recruit; they offer incentives for retention. And they also have things like technical assistance to make the daily operations easier. Furthermore, the data that the system collects helps plan things like staffing and helps franchise owners make decisions about the big picture – like the potential to open another unit or expand their current one.
Selecting a Franchise
If you are ready to commit to owning a donut franchise, the next step is to figure out which one to purchase. Many newcomers' mistake is to hop on the internet and begin their search to find the right match. Once they see that there are thousands of opportunities, they can quickly become overwhelmed. There is no denying that a franchise is a less risky endeavor than a new business startup, but only if you choose wisely. You won't be a fit for every franchise, even if you have the financial ability. That is where a franchise consulting company like Frannexus can help.
One of the hardest things is for someone to be objective about their strengths and weaknesses. You have to know what makes you tick personally, what your likes and dislikes are, and what you are more likely to be successful at to pick the right franchise opportunity. At Frannexus, we know how to ask the right questions – both financial and personal – to determine which opportunities are right for you. We help to walk you through the process of narrowing down your search based on interpersonal traits and available external resources.
Guiding You Through the Application Process
Once we help to pinpoint which franchises are a good match, there is an application process. Since we have an established relationship with the executives of the Donut Experiment, we have insider knowledge that can increase the likelihood that your application will be accepted.
With every franchise purchase, some agreements and contracts need to be filed, so each party knows their rights and responsibilities. You need to go through the terms to ensure that there aren't any hidden surprises. We have the industry knowledge to know what to look for and make sure you are entering into an agreement that is beneficial for the long term. A franchise purchase is a significant commitment, and our job is to make sure that you go in with your eyes wide open.
Americans love donuts, and although they might not be completely recession-proof, they are a treat that not many are willing to give up regardless of what the economy is doing. If you are ready to start down the path of business ownership, a franchise is an excellent way to get your feet wet. Let the experts at Frannexus find the right opportunity for you- the one that will have the highest likelihood of success. Contact us today, and let's begin your search to find a perfect match for your financial security and personal satisfaction.
Finding the right franchise for you can be a challenge, but Frannexus franchise consultants can help. We understand that not all franchises are alike. Frannexus supports you by allowing you to evaluate and select the franchise opportunity that's an ideal fit for you based on your experience, goals, passion, lifestyle requirements, and budget. Our proven process will help you make the right decision, whether you are looking for a career transition, an investment portfolio diversification strategy, or simply want to be your own boss.
Contact Frannexus today to get started on turning your dream of owning your own business into a reality.
DISCOVER A BETTER WAY TO EARN WHILE LIVING
Profits are Better Than Wages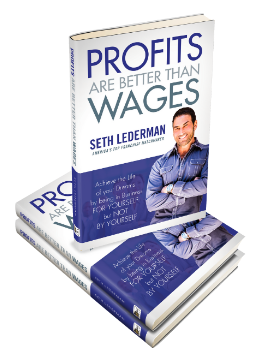 Tired of putting in hours of hard work while someone else benefits? You can earn money in a way that fits your lifestyle rather than the other way around.
In "Profits are Better Than Wages", experienced franchise advisor, Seth Lederman answers the "how" and "why" of going into business for yourself.
Get the News that Franchise Investors Want
Sign-up for FranBlog
Sign-up for occasional updates on the latest opportunities in franchising