Intermediate
Searching for the right franchise opportunity is like looking for a needle in a haystack. If you want to search smarter, not harder, check out the franchising insights and knowledge to get you there faster.
Franchising for Beginners
Buying a Franchise: 3 Tips for Beginners
Franchise business ownership may be the right option for you but which business model will achieve your personal, professional, and financial goals?
Franchising for Beginners
Franchise Business Models: The Three Types of Franchises
There are three franchise models to meet the financial and lifestyle goals of anyone looking to buy a franchise business.
Franchising for Beginners
Why Do Professionals Get Into Franchise Ownership?
Professionals are attracted to franchise ownership because they're tired of trading their time for money.
Franchising for Beginners
Buying a Franchise: How Much Does a Franchise Cost?
Most people overestimate how much franchising costs. They think it's multiple millions of dollars, it's a McDonald's and it has to be all of their own money. That's a misperception and a major false assumption about the cost of franchising.
Franchising for Beginners
Franchise Costs and Funding Options
Purchasing a franchise is very similar to buying a home with a home. You have a down payment of non-borrowed funds and then a mortgage as your loan with a franchise. There are liquid capital injection requirements of non-borrowed funds, the same as a down payment. Instead of a mortgage, you're going to have a business loan or note.
Franchising for Beginners
Why Franchising?
Discover why so many people across the globe are investing in franchise businesses.
Basic
Let's get started with the basics and discover if business ownership is the right direction for you.
Get Started
Advanced
You've decided to explore franchise ownership. Now, make it a reality with tips for vetting, funding and minimizing the risk of your franchise investment.
Get Started
Help
Learn about franchising at your own pace with resources for wherever you're at in your search. Do you have questions about buying a franchise? You'll find the answers in our Help section.
Get Started
DISCOVER A BETTER WAY TO EARN WHILE LIVING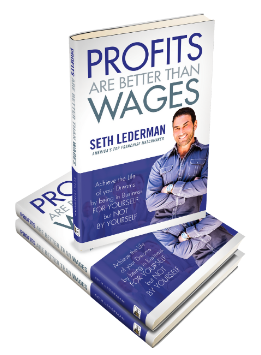 Tired of putting in hours of hard work while someone else benefits? You can earn money in a way that fits your lifestyle rather than the other way around.

In "Profits are Better Than Wages", experienced franchise advisor, Seth Lederman answers the "how" and "why" of going into business for yourself.
Get Your Ebook
Sign-up for occasional updates on the latest opportunities in franchising.
CONTACT THE EXPERIENCED ADVISORS AT FRANNEXUS.
Schedule your free consultation to unlock our portfolio of vetted franchise brands.
Schedule now
NO COST TO YOU.
Our fees are paid by

the franchise brands.
Address: 3400 N US 75-Central Expy 1000 Ste #110, Richardson, TX 75080