Self–Efficacy Quiz
Former president of the American Psychological Association, Mihaly Csikszentmihalyi, the world's leading researcher on positive psychology, who developed this evaluation model, states the following …

"People will be more inclined to take on a task if they believe they can succeed. People generally avoid tasks where their self efficacy is low, but will engage in tasks where their self efficacy is high.

People with a self-efficacy significantly beyond their actual ability often overestimate their ability to complete tasks, which can lead to difficulties.

On the other hand, people with a self-efficacy significantly lower than their ability are unlikely to grow and expand their skills. Research shows that the 'optimum' level of self-efficacy is a little above ability, which encourages people to tackle challenging tasks and gain valuable experience."
Answer the following questions on a scale of 1 to 10 for each of these questions:

(1 is low, 10 is high)

90-100 = High Self Efficacy
70-80 = Marginal Self Efficacy
< 80 = Suggests the person would be well advised to learn a higher level of self-efficacy before buying a franchise

DISCOVER A BETTER WAY TO EARN WHILE LIVING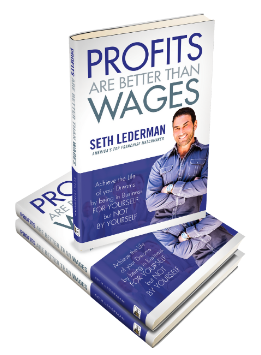 Tired of putting in hours of hard work while someone else benefits? You can earn money in a way that fits your lifestyle rather than the other way around.

In "Profits are Better Than Wages", experienced franchise advisor, Seth Lederman answers the "how" and "why" of going into business for yourself.
Get Your Ebook
Sign-up for occasional updates on the latest opportunities in franchising.
CONTACT THE EXPERIENCED ADVISORS AT FRANNEXUS.
Schedule your free consultation to unlock our portfolio of vetted franchise brands.
Schedule now
NO COST TO YOU.
Our fees are paid by

the franchise brands.
Address: 3400 N US 75-Central Expy 1000 Ste #110, Richardson, TX 75080